Drama serial "Wafa" is slowly turning into a must watch Urdu plays on-air these days. It exhibits all kind of masala in it, starring beautiful Mansha Pasha and handsome Babar Ali, attached in a compromising relationship of husband and wife. Furqan T. Siddiqui's direction and ShamimBazil's script took the whole drama to a new level of height and fame. Viewers are really appreciating well-crafted dialogues and tremendous acting from all the artists performing in the play.
Episode number 5 started with unexpected scene of psychiatrist examining the Wafa for being detached and lost in thoughts. But Hey! She is normal… then why Daniyal took her to psychiatrist? In fact, it is Daniyal who needs some psychological treatment, who apparently didn't allow Wafa to speak in front of psychiatrist separately. He also hides his relationship with her and presented her as a friend rather than wife.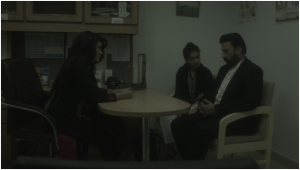 The old love of Wafa, Hashir also made contact with her and she sounds pretty reluctant towards him.
Wafa yells at Hashir: "Kia tum mujhay barbaad dekhna chahtay ho, Mai aik bhari qarz utaar rahi hoon aur yeh baat tum bhi jaantay ho"
A coincidence: 
It is a coincident that Hashir works for Daniyal. Wafa was feeling unwell and she asked Daniyal to come back home in quick. Daniyal sends Hashir and they meet again but in state that was inappropriate for Daniyal. Due to this misconception Hashir lost his job on spot.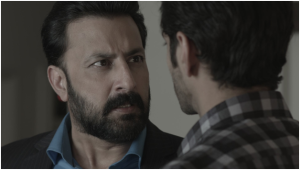 Daniyal took his wife to hospital and doctor admitted her for a day. He also made contact with Wafa's family while hiding his identity and told them about Wafa's condition.
Meanwhile, Wafa's sister and mother also visited her in hospital and showed their concerns. Hashir met her too, in the hospital and tried to convince her to withdraw from this compromising lifestyle.
Another mystery:
Daniyal received a call from random girl… she had a meaningful grin on her face. WHO IS SHE? *Butterflies in stomach"
Watch drama serial 'Wafa' Every Tuesday at 8:00 PM only on Geo Entertainment