Tonight's episode of Khaani must be the most anticipated one given that Mir Hadi has found the whereabouts of Khaani and followers can't wait to watch what Mir Hadi's next step will be. Fans are going bonkers wondering what will happen when Mir Hadi fishes out Khaani and the two come face-to-face with each other.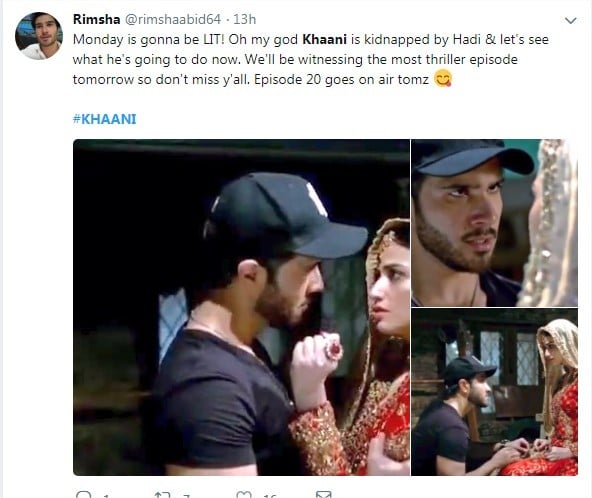 On one hand there's the most largely talked about and most cherished character Mir Hadi. An intense hot-headed, passionate and fiery lover hopelessly seeking forgiveness for being the murderer of Khaani's brother, while on the other hand we have Arham, an ideally quintessential gentleman who wishes to give Khaani all the love and respect she deserves. My question goes out to all the Khaani lovers. Who do YOU want Khaani to persue? Arham or Mir Hadi?

"Jo jhukta nahi wo toot jata hai. Kya Mir Hadi toot jai ga"?
While some fans are yearning to see their beloved Mir Hadi be victorious in his endeavor of Khaani's love , others don't regard it as probable.
The last episode has enticed many questions on the mind of each Khaani addict. Who is the girl Hadi keeps running into at the Darga? What will Mir Hadi do after kidnapping Khaani? What will Arham do when he discovers the truth behind Sarim's murder?
While you count your hours till the next episode, decide which contender in this flaming war of love do YOU want to see winning? It is needless to say; don't forget to enjoy the palpable chemistry between your two favorite characters as they make their long awaited appearances together on your television screens. Catch the most thrilling episode of Khaani tonight 8 pm only on Geo Television!