Azekah Daniel is one of the most emerging models and actresses on the horizon of Pakistani entertainment industry. She has started her showbiz career with modeling and commercials then stepped into drama medium. Her beautiful face and acting skills have gotten her noticed by number of audience across the globe.  She has done remarkable projects with Geo TV like Chhoti, Piya Mann Bhaye, Anaya Tumhari Hui, Sada Sukhi Raho and now Noor Jahan as leading actress. We at Geo Entertainment conducted her social media interview for our digital fans. 
Q1: Azekah tell us about your showbiz career? What's inspire you most to join entertainment industry? 
Ans: I've been in this industry for the past two years. I started with commercials and then stepped into the drama industry. What inspired me was my belief in myself. I believed that this was something I could actually enjoy doing.
Q2: What would you like to prefer most, Acting or modeling?
Ans: I really enjoy acting it gives us a chance to do something new. Every project is a new exciting experience for me.
Q3: How's your working experience with Geo TV?
Ans: Lovely I must say! We've been working together for quite some time.
Q4: Which Geo TV project is closest to your heart? Your favorite character in Chhoti, Piya Mann Bhaye, Anaya Tumhari Hue, Sada Sukhi Raho and Noor Jahan?
Ans: ANAYA TUMHARI HUI ! It was amazing working with such a great cast which included Rabab Hashim, Nyla Jaffri, Anwer Iqbal, Assad Siddiqui, Omer Shahzad and our director Wajahat Hussain. They were all very encouraging and we had a great time onset. Well I got an amazing response from the audience for Sada Sukhi Raho and I loved playing 'zoya' so I guess it has been my favourite character so far.
Q5: Your expectation with Noor Jahan? Share any unforgettable memory while shooting for Noor Jahan?
Ans: Noor Jahan is a very different and interesting story written by Shabnam Sani and directed by Furqan Adam. The entire team of NoorJahan has put in alot of effort so let's see if our efforts are able to make a mark with the audience.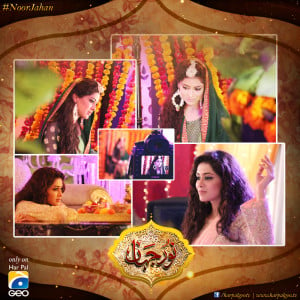 Good Luck Azekah for your future projects with Geo TV. Har Pal Haseen Hai, Har Pal Geo
Please visit official page of Noor Jahan: https://www.facebook.com/Noorjahan.geo