"I am very very happy that finally one of… well not one of, in fact the most loved project in my entire showbiz career,  Khuda Aur Mohabbat is going to on-air from 29th OCT 2016" Said: Imran Abbas while live chatting with Geo TV fans!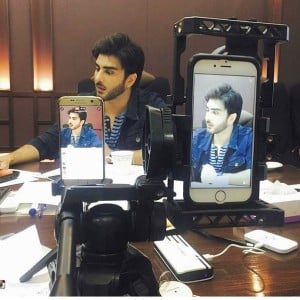 "Khuda Aur Mohabbat" is a magnum opus novel conceived by Hashim Nadeem, while knowing the popularity of book and on-air response of season 1; Geo Entertainment has decided to visualize complete sequence of "Khuda Aur Mohabbat" with Hammad's abroad life as well. Pakistan's most successful showbiz producer, Babar Javed showed keen interest in remaking of 'Khuda Aur Mohabbat' to revive the eternal story of love. This time viewers will experience more comprehensive remake of serial with additional story and breathtaking visuals shot in America.
The man behind Blockbuster play "Bashar Momin", Syed Ali Raza (Usama) has directed he remake of "Khuda Aur Mohabbat". Thursday 27 oct 2016, he has appeared on a promotional chat for "Khuda Aur Mohabbat" and paid his gratitude for all the people who supported him in making premium quality show for Geo TV viewers.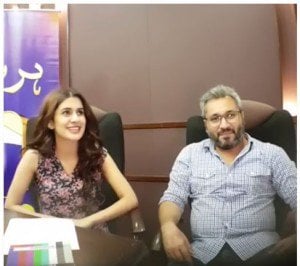 Sadia Khan, who is playing the role of Imaan, a girl with religious background and surrounded with orthodox mentality also came forward and posted her video message to fans!
"Finally itnay saal wait karnay kay baad, itni shiddat say intezaar karnay kay baad, Khuda Aur Mohabbat Arahai hai" Said: Sadia Khan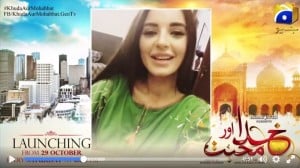 Kubra Khan, will be appear as Sarah Isaac, a Christian girl gets associated with Hammad in an American university and wanted to explore his complexities and broken personality. Kubra Khan has also interacted with fans in a live chat session from Geo Entertainment platform.
She Said: "Jab Mujhay Khuda Aur Mohabbat mai Sarah ka character play karnay ki offer aaye tou.. I was like YES! Bohat hi zabardast script hai"
Khuda Aur Mohabbat's OST has already become anthem of love and voices of heart. This time again Pakistan's one of the most popular singer Ahmed Jahanzeb, sung it with more enhancing expression and feel with a duet Afsha Fawad.  Actress/ Host Javeria Saud has penned down the touchy and penetrating lyrics.
Right at the moment, Khuda Aur Mohabbat has already become talk of the town on social media and viewers are waiting eagerly for or-air episodes!
Khuda Aur Mohabbat's fans Facbook Posts & Tweets:






Geo TV's most awaited serial, Khuda Aur Mohabbat will hit your television screen tonight at 8:00 PM. Stay tuned to your favorite entertainment channel!