The Donkey King's success journey isn't over yet. The groundbreaking title which has been reaching far and wide with a handful of dubbed versions is yet to make another major appearance— a world television premiere on Geo Television!
This Pakistani animated movie has sufficed among the highest-grossing films in the country through the pioneering work of Aziz Jindani for screenplay as well as film direction. 
The Donkey King is  basically a movie for all ages and captures the life-changing adventures of a donkey named Mangu, who ends up becoming the king of Azad Nagar by chance.
This landmark film explores the harrowing realities of life for ordinary people with subtle detail. Talisman Studios have finely evoked the changing scenarios in this presentation with their animation excellence.
As we are living through a global crisis, we all have a responsibility to help where we can. Geo Films has been popular for its success at the cinemas with crowd-pleasing content every Eid. Geo is of the view that entertainment shall not be confined to selected venues. 
In keeping with the current situation, Geo has announced the television premiere of its high-grossing film that you can watch with your friends and family in the comfort of your own home on Eid.
The Donkey King also owes the success of its epic journey to its voice cast which includes comedy maestros like Javed Sheikh, Hina Dilpazeer, Mani, Ghulam Mohiyuddin, Jan Rambo, Ismail Tara, and Faisal Qureshi.
This one-of-a-kind movie is filled with powerful messages, making Mangu the beloved of everyone. Mangu's journey comes with light-hearted comedy and catchy songs by the powerhouse vocalist, Asrar, who gave children songs like Donkey Raja, Allah Meherban, Ba Adab Ba Mulahiza, and Inky Pinky Ponky.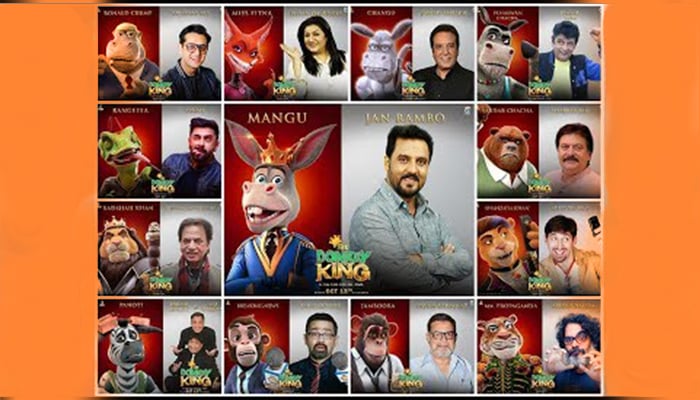 The Donkey King premiere will air on the first day of Eid at 7:00 PM.