Production powerhouse 7th Sky Entertainment has produced a plethora of hit drama serials for Geo Television. One of their most recent successes was Munafiq which ended last month contributing to Pakistan's entertainment industry with two records.
This time we're looking at another farewell. Neelam Munir and Imran Ashraf's powerful screen presence made 'Kahin Deep Jalay' a highly-rated crowd favorite drama serial, continuing Geo TV's winning streak.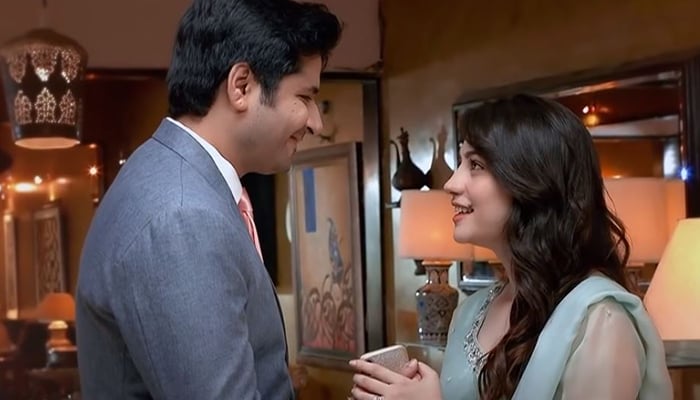 By the looks of it, it seemed like this odd love story was about Rida's endless compromises protecting her marriage despite Zeeshan's lack of trust. Rida, a pure-hearted character with a spotless past, eventually taught the audience a thing or two about dealing with toxic marriages.
In the beginning, we saw Imran Ashraf flawlessly portray bold emotions, featuring as Zeeshan who is head over heels in love with his beautiful wife Rida. His intense dialogue delivery and lovestruck facial expressions once again proved that he is a gem of an actor. Neelam Munir is no less stunning when it comes to dialogue delivery, but she proved once again that she's among those top actresses who can really bring the emotions of sadness and pathos to life!
Shamila (played by Nazish Jehangir) had done her two bits in the beginning to create misunderstanding between Rida and Zeeshan. Zeeshan's emotional abuse gets worse when he comes across a love letter Touqeer (played by Ali Ansari) had written to Rida; something she hadn't even seen in the first place. 
In one go, Zeeshan not only kicks Rida out of their house but also humiliates her publicly the next day at her brother's funeral— accusing her of an affair with Touqeer. After a few days, while Rida had barely gotten out of the trauma, Zeeshan further accuses her of bearing someone else's child based on yet another misunderstanding.
We learn from Rida that despite having unconditional love for our significant others, it is necessary to hold them accountable for their cruelty; whether it is emotional or domestic abuse. When Zeeshan is on his knees begging for her forgiveness, Rida takes her time to overcome the trauma and makes him realize that the act of accusing a woman and mentally abusing your loved ones sometimes comes with a hefty price.
Hatim (Hammad Farooqui), who had married his brother's widow, Shamila, eventually slaps her with a talaq after her malicious conspiracies against Rida are exposed. With 33 episodes so far, Kahin Deep Jalay has perfectly captured the consequences of ruining someone's life with baseless allegations.

Kahin Deep Jalay's ending will reveal whether or not there will be any reconciliation between Rida and Zeeshan. Will something tragic happen to Zeeshan after Shamila will demand a khula? And most importantly, what will become of Shamila when she will have nowhere to go?
Kahin Deep Jalay airs on Thursday at 8:00 p.m.
You can catch the OST and teasers for Kahin Deep Jalay on Har Pal Geo's YouTube channel. Don't forget to subscribe to our social media pages on Facebook, Instagram and Twitter, to get the latest updates on Kahin Deep Jalay and other shows.