Makafaat-e-amal are the consequences of our willful actions that either treat us with a reward or punishment. Under the theme of 'what goes around comes around', Geo Television has recently released the second season of its drama series 'Makafaat' to complement the essence of its 'Ehsaas Ramzan' transmission which highlights the need of empathy and sense of accountability.
The producing powerhouse 7th Sky Entertainment has taken a compelling approach to each episode, to show how victims try to survive and how culprits face justice.
Makafaat reflects on negative virtues such as greed, envy, heedlessness, pride, malice, covetousness, and hatred in its standalone episodes.
In Easar, writer Huma Hina Nafees sheds a light on a household where mother and daughter duo Zahida and Maimoona are highly egoistical and selfish people. They refuse to be as kind as Aziz Sahab (Zahida's husband) who gives shelter to his brother's widow and daughter in his house. Zahida and Maimoona do not leave any stone unturned in harassing new family members. Actor Ali Ansari plays a supporting character in this episode, which also stars Namrah Shahid and Shameen Khan.
Taking a jab at egoistical people, the episode 'Easar' convinces the audience that the identity we have created in our mind is false one when we lack empathy. Aziz Sahab's character in the story illustrates that kindheartedness can give one a new life.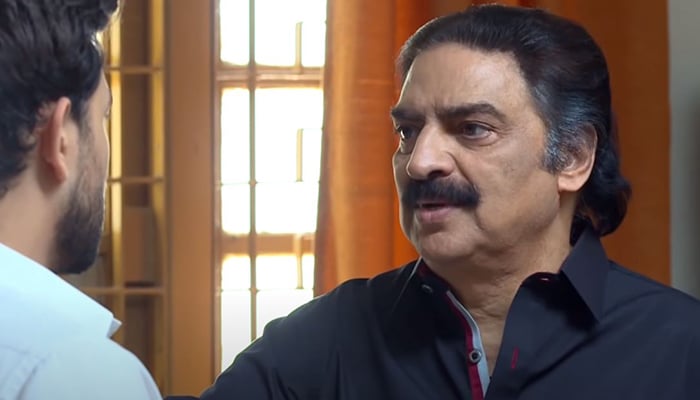 The episode titled Doulat Ka Ghamand also highlighted the same problem and illustrates that no matter how high we set the bar for other people in our lives, if our actions contribute to getting someone hurt, we are likely to create bad luck for ourselves.
Writer Imran Ibraheem introduces the audience to a high-profile businesswoman, Surraiya (Saba Faisal), who is inconsiderate and insensitive to her maid's daughter (Nazish Jehangir). Soon however Suraiyya faces the unpleasant outcome of her deplorable behavior.

This drama series include episodes by some great writers from the industry including Saqlain Abbas, Huma Hina Nafees, Rehan Zaheer Siddiqui, Anwar Gillani, Wajiha Warsi, Samina Ejaz, Umar Qazi, Ramia Salma, Farzana Imran and Mehrunnisa Mustaqeem Khan, and is directed by Saleem Ghanchi (who also helmed the series last year).
Makafaat airs every day at 7:00 PM as part of Geo TV's Ehsaas Ramzan transmission.
You can catch the OST and episodes of Makafaat on Har Pal Geo's YouTube channel here. Don't forget to subscribe to our social media pages on Facebook, Instagram and Twitter, to get the latest updates on Makafaat and other shows.