Hola Geo TV Fans! Your favorite entertainment channel once again brought you something out of the box and worth interacting. Junaid Khan being an eye-candy, melodious singer, and a versatile actor, is a recognized entertainer and a style icon of Pakistan. He has already done number of remarkable drama serials with Geo Entertainment like Rasam, Duaa and now playing the character of Zain (Radio Jockey) in currently on-air project, Marzi. This time popular vocalist and actor, Junaid Khan did live interaction with Geo TV fans also where he hummed the songs from his ex band, solo ones and lines from the OST of MARZI. He has literally stunned the digital audience with his mesmerizing vocals and civilized point of view about life.
As Geo Entertainment's official social media announced the big news of his arrival, it's made the fans happy and excited. #AskJunaidKhan
Junaid Khan's live streaming on Facebook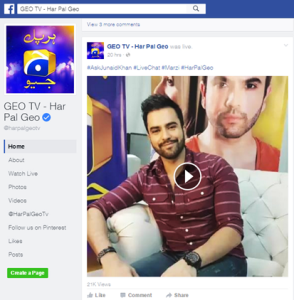 Fans interacting live with Junaid Khan on Geo Entertainment's official Facebook page.



Junaid Khan live on Twitter (Via Periscope)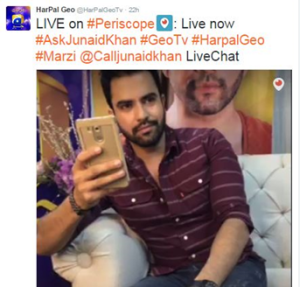 Here are few tweets for #AskJunaidKhan

It was really an amazing evening, Junaid Khan ended the worth remembering experience by singing Marzi's OST live. He also asked the fans, don't forget to watch drama serial Marzi every Thursday at 8:00 PM only on Geo Entertainment.