Have you ever imagined your bestie, girlfriend and any female colleague in bridal attire way before her marriage? Well most of us always wondered in our mind, how some particular girl will look like on her big day of wedding. Here we are presenting number of Geo Entertainment's leading actresses in their normal selfie look along with gorgeous bridal glimpses. It is truly said: "ON YOUR WEDDING DAY, YOU SHOULD LOOK LIKE YOURSELF AT YOUR MOST BEAUTIFUL".
MINHAL KHAN: (Natasha)
When I first time saw you, my heart said: "Masha Allah" than suddenly my mind pokes "Insha Allah" *Wink Wink*.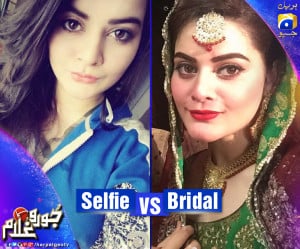 FATIMA EFFENDI: (Sohaina )
Kisi qazi ko bulao goriyo, inhay Dulhan banao goriyo
RABAB HASHIM: (Ambreen)
Because I am the bride, that's why!
SARAH KHAN: (Chand)
Cinderalla mera intezar karna, buss rastay mai hoon .. kisi aur ki Dulhan na ban jana <3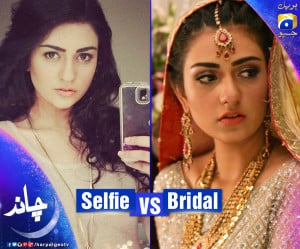 ANOUSHAY ABBASI:  (Khazeena)                      
Dil walay Dulhania lay jain gai
AZEKAH DANIEL: (Noor Jahan)
Bright and Beautiful
AYESHA KHAN: (Noor Jahan)
Tu ab say pehlay sitaro main bas rahi thi kahin, tujhay zameen pe bulaya gaya hai meray liye <3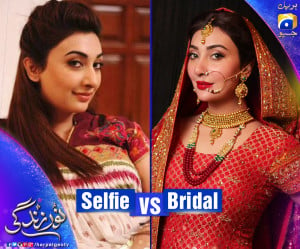 Fans! Which bridal look you like most? Give us your feedback in comment section
#HarPalHaseenHai #HarPalGeo