Drama serial "Wafa" is getting popular among its viewers since its first episode hit the television screen. Furqan T. Siddiqui's visionary direction already made the play a must watch phenomenon.
Wafa Episode 6 started with another mysterious character entry. The girl looked familiar with Daniyal and they communicated on a telephonic medium in a casual way. "WHO WAS SHE?"Daniyal also went in deep thinking mode after talking with her.
"The past cannot be changed, forgotten, edited or erased; it can only be ACCEPTED."
Daniyal never misses a chance to taunt Wafa that he has already purchased her every moment.
Daniyal: "Mai nay aap ka aik aik lamha khareeda hai."
Wafa: "Aap nay mujhay khareeda nahi, Na hee Mai biki hoon, Hum nay shaadi ki hai."
Hashir plans a surprise birthday party for Wafa along with Maham. They both met outside for the necessary shopping required for event's celebration. Umair witnesses Maham along with Hashir and misconception arises between the two lovebirds.
"A single moment of MISUNDERTANDING is so poisonous, that it makes us forget the hundred lovable moments spent together within a minute."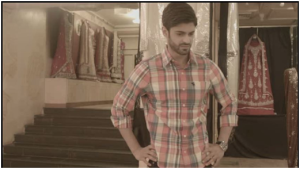 Daniyal surprises Wafa on her Birthday!
Daniyal arranges a private but exquisite birthday party for Wafa. She was very happy and delighted to see the infinite love of her husband.
Wafa: "Mai aapka kis tarah say shukria ada karun"
Umair Stops communicating with Maham:
It is unfortunate to know that two sincere lovers are growing apart due to misunderstanding between them.Umair is thinking Maham is dating another guy while the reality is totally opposite.
Will Maham and Umair ever reunite again with similar affection?
Watch your favorite drama serial "Wafa" every Tuesday at 8:00 PM only on Geo Entertainment