This week's episode of Mor Mahal was a tumultuous one, ranging from excited one minute and confusing the other. Nawab Asif Jahan introduced his coins for the State of Jahanabadand received gifts from Meher Bano's brother that reminded him of his impending Shab-e-Uroosi. While Dilawar has advised the Nawab, letting him to divert everybody's attention to Surayya, as his royal highness intended to spend time with his NauUroos.
On the other hand Farrukh Zaad and Serwat Jahan played on fields bigger than that, the latter wanted Shehzada Shujaat to reclaim his place as Wali Ehad, while Wazir Begum is desperate to meet her son Shehzada Taimoor  to ensure his ascendency as the Wali Ehad of Jahanabad. Amidst these power plays Akhtari managed to capture Meher Bano and used her as leverage against Shujaat:
"Ye wo sharab hai jo uske saamne undeli tou jae gi magar uske halaq tak nahi pohnchegi, Shaujaat ko kahbar bhijwa do, hum usse ye karishma dikha kar koi aur karishma dekhna chahtey hein."
Banki was torn between rejoicing at the thought of Nawab Asif Jahan being taken by her beauty and her position as a lowly maid.
"Nawabon ke waadey soney ke tukron ki manand hotey hein aur un ke taqazey talwaron jese."
Serwat Jehan called for Shujaat, showing him a glimpse of Meher Bano which was enough to ignite the passion of the young Nawab. In his desperation to get her he went to Nawab Asif Jahan, who was already shaken by the unexpected visit and demands of the gambler who had lost Surayya to him.
When the two brothers met it was hard to imagine them being hostile to each other. Nawab Asif showed genuine happiness to meet his brother, but when Shujaat dared to ask him for one of his Kaneez-e-Khaas, the conversation went downhill, resulting in hostility amongst kin.
"Hum tou sirf apko apki jahan bandi yaad dila rahey hein, lagta hai ap ko riyasat aur kaneez may fark nahi pata?"
The episode ended on a very precarious note and left the audience apprehending for the revelation of yet another major player. Unfortunately that's all we know for now, with Farrukh Zaad's Kaneez-e-Khas awaiting the Nawab in his chambers, getting us curious as to why exactly?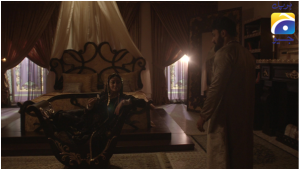 Watch Mor Mahal every Sunday 8 pm on Geo TV to find out more about this epic fantasy and sate your curiosity!