We have time and time made claims about how MorMahal would break the stereotypes surrounding the Pakistani Drama Industry and have proved them effortlessly. Here are the 3 sexist trends, more like the norms of our respective industry, that MorMahal soar above.
1-Increased ratio of male actors to female actors: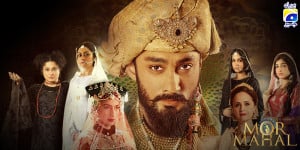 Currently, every drama being aired on various TV channels has a high ratio of male actors to female actors. Not only that, but male actors also get more dialogues to speak than their female counterparts.MorMahal,has a different story, and the first episode was a testimony to it, as majority of the lead characters are enchanting dames of MorMahal.
P.S. You hardly see a man frolicking around the halls of MorMahal, but women? They're in abundance!
2-Eunuchs are frowned upon: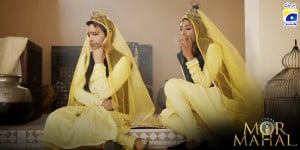 For eons, we lived in a world where anything beyond what we labeled as "normal" was avoided. Same rules applied for transgenders, they were rarely given any roles in productions and even if they were, the roles were as frowned upon as the society's believes about them. If you've seen MorMahal, you'd know that's not the case. Here the eunuchs are not marginalized, in fact, they have very strong and influential roles. Women might be the power players but eunuchs are the storytellers here; the eyes and ears of MorMahal. It's heartwarming to see this show trying to change perceptions, encouraging transgender community in an industry where they are subjected to much discrimination and degradation.
3-Women portrayed as "Damsels in distress: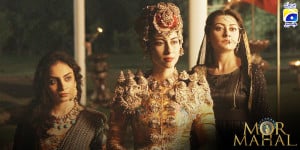 We've all being tired of watching women portraying the helpless, miserable female roles the industry so loves to put them in. It was about time the players changed. MorMahal is a beautiful trendsetter in this regard. The women of this show are powerful and diplomatic with different motives and agendas, building an intricate web of lies, deceit and seduction, and playing on a field much bigger than we've ever comprehended!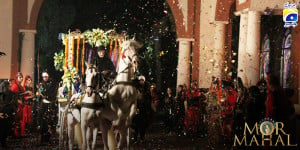 These were only a few stellar qualities of this show and 3 major stereotypes MorMahal broke one just one front, there are many to follow, we're sure. Watch MorMahal to enjoy this peerless fantasy drama, created by the finest names of the industry. Not to forget, that this is the first ever drama of this genre to be produced and with a whopping whole of 39 soundtracks; trulyMorMahal is one of its kind.