This episode of Mor Mahal was very interesting to say in the least. A new level of Saas-Bahu squabble was unleashed this week! The Episode started off with Banki trying to calm down Meher Bano, but since she knew that Nawab Asif Jahan was under the impression that Banki was his Nau Uroos, she wouldn't rest until she found a way to meet Kabir.
After the Shab-e-Uroosi debacle Sarwat Jehan is tired of Farrukh Zaad's control on Nawab Asif Jahan and in her anger she sent poisoned Sharbat-e-Rahat for her. And in her glory she sends for Akhtari to share the news of Wazir Begum's impending demise.
"kya tum jaanti ho ke humne uss naagin ka kaam tamam kardia"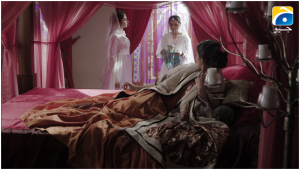 On the other hand Farrukh Zaad is a sly woman and she tested the drink on the Gurba-e-Shahi , which resulted in its death. Sending the dead animal on a platter to Serwat Jahan was her answer. It angered Badshah Begum even more when Akhtari shows her the voodoo dolls she found in the bowels of Mor Mahal.
"Kya Kaya dum jharu nahi kiye, Kaala ilm hai sirkaar, kaala ilm'
While Farrukh Zaad was gloating over her apparent victory over Sarwat Jahan, She was well played by a very favoured Khawa Sira of Mor Mahal.Shola Jaan, managed not only,to scare both her and Shaista but also took off with the uroosidupatta from right under their noses.
Taking cover in the dark night, Meher Bano convinces Banki to stand vigil in her place while she tries to find a way out of the castle. She barely missed a confrontation with Serwat Jahan who spent the entire day at a Dargah to ward the evil surrounding Mor Mahal.
Even though she did find the secret door and a way out, she somehow ended up hearing a conversation between Asif Jahan and his advisor. She is brought back to her senses and out of her lovelorn state as she hears them talk about how he would kill her brother if she falls out of line.
"agar usne koi esi harkat ki, tou usi din wo apne bhai ki lash is sheher ke darwaaze per latki paegi"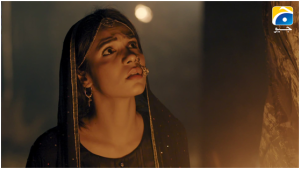 Watch Mor Mahal every Sunday 8pm on Geo TV and prepare to be awed by the proceedings of these power plays and the turn of events that happen so fast!