After the first episode of this epic fantasy, we are still reeling with the after effects of such extravagance, when it comes to expectations, they don't disappoint! The second episode was a collection of incidents, one afteranother,we were captured by the events that were unfolding in Mor Mahal.
After so much reluctance to meet his third wife, upon being coerced to do so, when Nawab Asif Jahan finally saw Banki, impersonating MeherBano in her stead, he was ensnared by her simplicity and effortless beauty.
"Mit gaya jism, reh gayi aankhein, kis ne ye intezar dekha hai"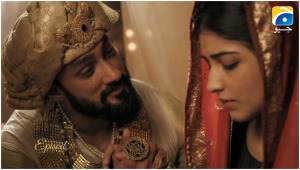 However, Shaista, the kaneez-e-khaas of Farrukh Zaad interrupted them, before things could proceed any further than declarations of love, which brought the wrath of Nawab Asif Jahan on her,  but it turned into concern as he heard about his beloved's critical condition after she swallowed the poison.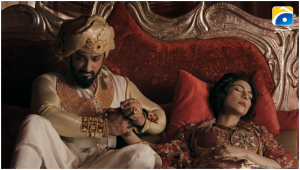 Abruptly leaving MeherBano's room, the Nawab stationed himself beside FarrukhZaad and waited until an antidote was given and she recovered. The elaborate guise to beguile the Nawab worked and he ended up spending the night beside Farrukh, making promises that cost him later.
Meanwhile Banki tried to find MeherBano, and as she foraged the silent halls of Mor Mahal she spotted Shaista guiding the court healer through a secret door into a wall. MeherBano refused to go back to her chambers until Banki promised her she would keep up the travesty every time the Nawab visits.
"Goya tumhara jadu un per chal gaya Banki"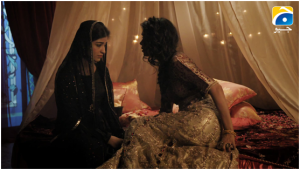 The entire Palace woke up to a morning of festivities and celebrations of the Shab-e-uroosi, until Badshah Begum noticed Asif Jahan emerging from FarrukhZaad's Chambers. The Nawab then had to face his chagrined mother and coaxed her into forgiving him by consenting to all her wishes.
"Hum wada kartey hein apkey hokum ki tameel hogi"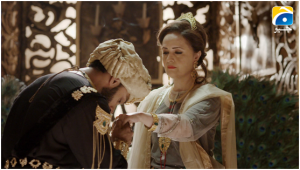 Watch MorMahal every Sunday to learn more about the proceedings of these ploys and the happenings of the palace where not only every prominent woman is a player, plotting to topple the other but many supernatural forces are also at work, serving some dark and bloody purpose.