The most happening drama of the season has yet another mind boggling twist in the plot line, and the controversial case of its spoilers have caused a wild uproar on all social platforms. All those who binge watch Khaani have all eyes on Hadi, anticipating his next move in the crazy quest for Khaani's love.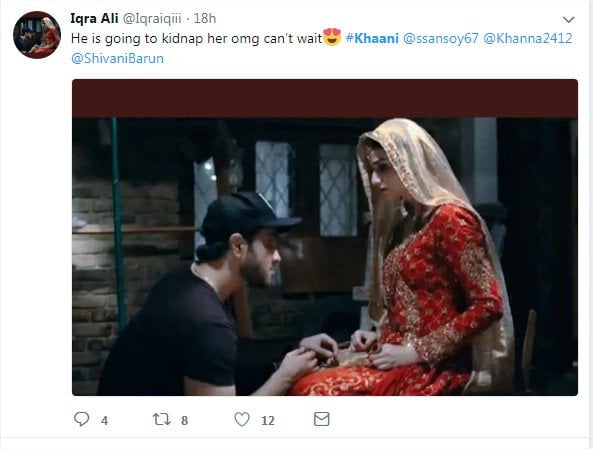 Rumor has it that Mir Hadi will abduct Khaani and win her over.  The enraged romantic hero has managed to subdue a monstrous applaud. Some Khaani fans are heart broken and angry over this news whilst the others are content with seeing the transformation in Mir Hadi from a killer to a guilt-stricken human being.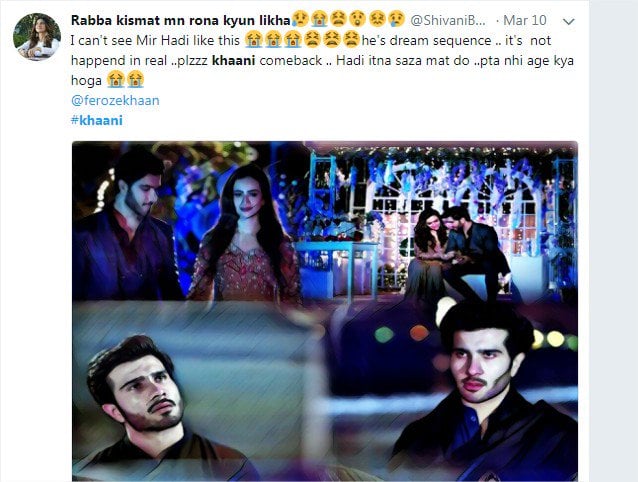 Some Khaani addicts have even taken to twitter, expressing their disregard with the spoiler. These fans were expecting to watch Khaani break free from the shackles from the mad man and teach him a good lesson for murdering her brother Sarim . They were hoping for Khaani to play pretend and sabotage Mir Hadi's feelings. This chunk of fans majorly disapproves of empathizing with a sinner beyond redemption.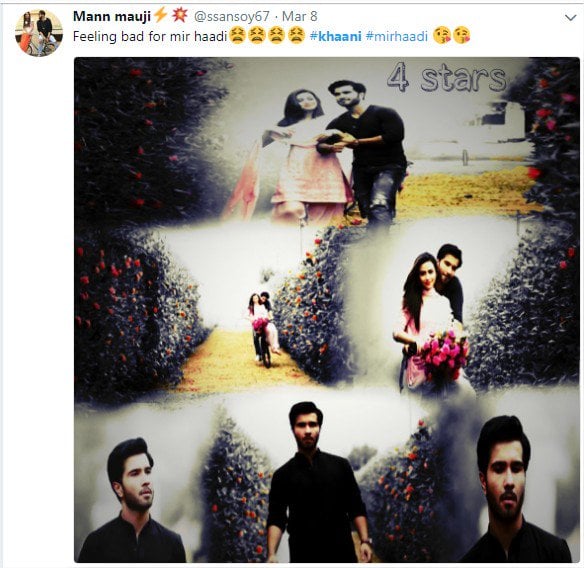 On the flip side, some fans are empathizing the despairing, downhearted and desperate lover Mir Hadi . The rest of the fan population believes that Khaani deserves to move past her agonizing history with Hadi and settle down with her suitable partner-in-marriage Arham. WHAT ARE YOUR THOUHTS on these preconceived notions? You must be thinking the veeto threshold lies higher with the latter. Well, the spoilers say otherwise.
As much as we were yearning to see Khaani get married to her mister right Arham, the digital media is flooding with spoilers of Khaani being convinced into forgiving Mir Hadi. The fans are further going crazy being inquisitive of Mir Hadis' shady encounters with the stranger at the Darga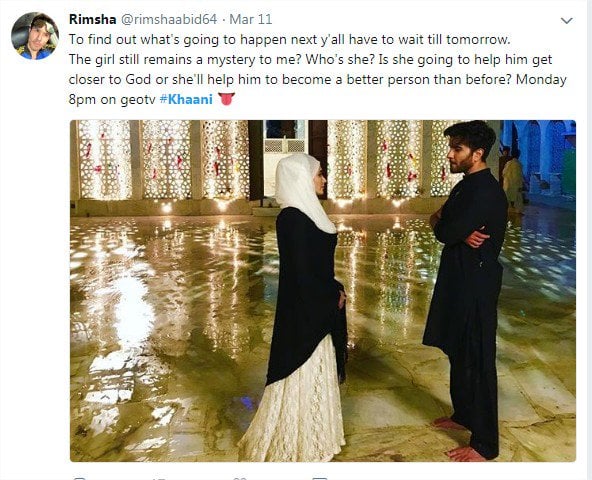 All else apart, hats off to the 7th Sky entertainment and Geo TV for enticing such EXTREME fan emotions and making Khaani the hot topic of the century! Will Khaani actually forgive Mir Hadi or will she bluff her feelings for revenge? Will Arham support her when he finds out what's going on? What role will this stranger play in Mir Hadi's life?

FANS. Don't give up just yet. Spoilers barely ever hold true. I bet you are all aching for the next episode of Khaani to solve this enigma. So grab your popcorns, brace up, and DON'T FORGET to delve into the most anticipated episode of your favorite drama to air next Monday 8 pm!