Geo Entertainment's bringing an epic drama serial of fun-loving and jazzy girl with the title "MannChali". She is a kind of lass who likes to watch wrestling, she loves to ride bike and she is outspoken.MannChali makes funny pranks with people, puncture their vehicle tyres and cut electricity connections.
You can judge the shades of MannChali's personality with this dialogue:
"Mein sirf itna samajhti hoon kay jo acha hai, uss ke saath achay se raho, aur jo bura hai ussay achay say sabaq sikhao!!!"
It is quite shocking to know the leading performer for this role Rabab Hashim has a very calm and sober personality, but this is what you call the talent of a drama artist when they leave their comfort zone and perform out of the box character. At Geo Entertainment's Social Media pages, we have received number of request from our fans to bring back the couple of Sami Khan and Rabab Hashim… so here we fulfilled your heartily wish. The heartthrob of Pakistan drama industry Sami Khan playing a doltish guy character and this contrasting pair will create sweet and funny situations.
RababHashim posted on her official facebook page:
Sami Khan also Retweeting fans tweet about MannChali: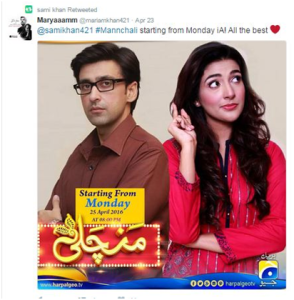 You guys will see some other artists in fascinating characters like Mannchali's father Manzoor Qureshi, while MannChali's sister is played by Zainab Jamil.
Raheel Ahmed, the playwright for drama serial "MannChali" has already penned down popular drama soap "MeriMaa", aired on Geo TV. He is no doubt an emerging writer on the horizon of Pakistani Entertainment industry with remarkable ideas, plots and powerful scripts. This is Ahmed's debut serial and seems like a promising one.Safiyah Zafar Usmani directed the light-hearted and comical play MannChali.
Geo Entertainment's Rom-com will hit your screen tonight at 8:00 PM.