Geo Entertainment's newly launch serial 'Wafa' begins from family bonding scene of fatherly love and daughter's affection.  Shakir Ahsan Sahib enters the home after a tiring day at office and gets a well pampered response from his two daughters. The younger daughter Maham claims that Shakir Sahib loves elder daughter Wafa more than her *Jealous Expression*… at this point her father replied with these wisdom based words: "Maa Baap kay liye aulaad bilkul aik jesi hoti hai, woh jesay Maali apnay lagaye huway har phool say pyaar karta hai".
Some girly talk and gossiping session between Maham and Wafa:
"Sisters are joined heart to heart"
Maham pointed out Shakir Sahib is worried for a suitable match for Wafa Baji. She also reminds her about a university fellow Hashim to whom Wafa is quite interested and wanted to marry him. Maham teases Wafa might be he tied the knot with someone else… but Wafa responded with full confidence "Woh aesa kar hi nahi sakta, uski rooh uska jism chor kay ja sakti hai magar woh mujhay nahi chor sakta".
Love Khichdi between Maham and Umair:
Maham and Umair appeared together with a meethi meethi nok jhok and with a regular loving couple's fighting scene … Umair said: Haye kaash mai nay tumhay dil na dia hota! Maham replied sharply "wesay bhi tumhara dil meray kis kaam ka? Agar tumharay pass hota tou kamazkam dharaknay kay kaam tou aata"
Surprise Birthday Party:
Maham and Wafa arranged a surprise birthday party for their beloved father. Everyone was looking jovial and cheerful.  Shakir Sahib felt grateful for this small yet meaningful celebration. He announced one lac pocket money for both the daughters.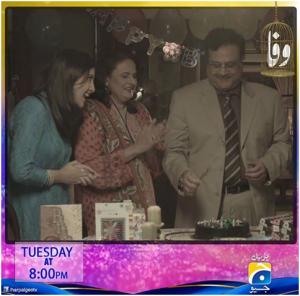 Life takes an unfortunate turn:
"Life and death were so unpredictable. We exited to moment to moment, never knowing who would be the next to leave this world"
Shakir Sahib got a massive heart-attack in office and been taken to hospital in emergency. Wafa received the most shocking phone call which revealed the reality to her. Shakir Ahsan left the world and his vulnerable daughters.
The family of Wafa received a legal notice and they were looking worried … it seems like monetary crises are rising for them.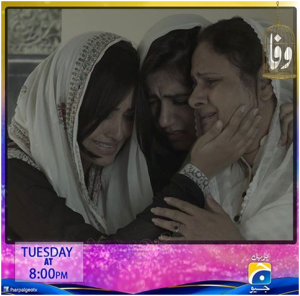 What future really holds for Wafa and her family? Eagerly waiting for the next episode…
Fans! Stay tuned to Geo Entertainment to watch drama serial "Wafa" every Tuesday at 8:00 PM