"Bad Dua Hai Iss Ghar Ko, Koi Bhi Iss Bad Dua Se Nahi Bach Saka… Iss Ghar ki Bahu'on Ko Aik Na Aik Din Bewa Hona Parhta Hai, Yehi Haqeeqat Hai"
Well what type of jinx it is? It is just a myth or any superstition… Whatever you called it but one thing is pretty sure that Geo TV's latest offering "Mannat" will make you flabbergasted.
We have talked to playwright Kishore Asmal and tried to find out what was really boiling in his mind before writing such an unconventional drama story!
"Mera yeh khayaal hai ke Masoom dilon se nikalney waali Dua'en aur Badua'en Insaanon ki zindagi tabdeel karnay ki  taqat rakhti hein. Aur Mannat inhi do taaqaton ke takraao ki kahani hai."
When we contacted with Mannat's director Amin Iqbal, he also has something very unusual to tell us:
"MANNAT is a serial which had many challenges for me. Well, the first challenge I faced was my mother's rocking in the cradle of life and death. Although she couldn't survive but I came to know only then the real meaning of a vow Mannat as we ask God even then to whom we don't see and get whatever we asked for really makes us happy when something asked is met and takes us through a new experience. MANNAT serial gave us all something in different forms. As there was a journey found in this story likewise we all made a journey in this serial as we created it and i believe that the viewers would also have the same experience as they watch it. The most difficult part of this serial was to set up contemporary art in the Noor Mahal. It was the most challenging job for me. It will remind me all that what my mother went through during it's making, whike it is played on air. That's another reason why MANNAT is special for me."
Okay now! Let's talk about the cast of play. Fans will see very namkeen, dimple girl Rabab Hashim in a folk attire of country girl. She is pairing with Pakistan's television industry Johnny Depp none other than Sami Khan. Not only this! Kashif Mehmood, Iffat Umer, Zoya Khan, Zaib Rehman, Uzma Hassan and Zainab Qayoom are also performing in the most anticipated play.  Another great aspect about Mannat, it has been shot in a sumptuous palace of Noor Mahal located in Bahawalpur.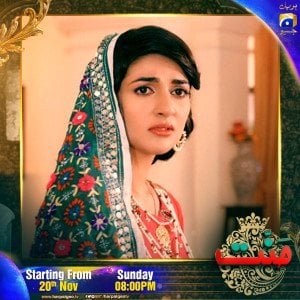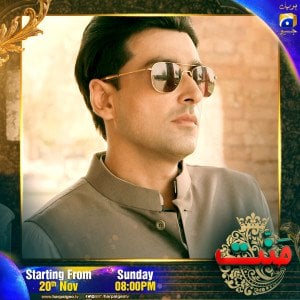 Mannat, an unconventional play will hit your screen from 20th November 2016 at 8:00 PM only on Geo Television.