It has been two weeks since Geo Television kicked off a new drama serial for Thursday nights.
This morning, the star-studded cast of Bandhay Ek Dour Se woke up to a pleasant surprise with the drama serial as well as the lead actor trending on Twitter.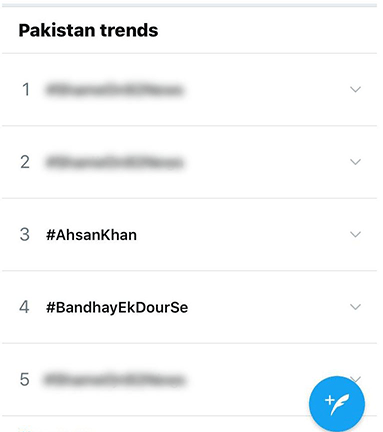 With #AhsanKhan and #BandhayEkDourSe among the top trends, the drama serial garnered much attention from social media users with fans speaking glowingly of Ahsan Khan and his onscreen charisma.
With Ahsan Khan's fans anticipating the arrival of the drama serial and his extraordinary acting skills, Ali Zafar also sang praises for him in a tweet— wishing him good luck.
A handful of behind-the-scenes pictures of the lead cast also surfaced on Twitter as fans heaped praises on the drama serial.
Bandhay Ek Dour Se is a presentation of the country's leading production house 7th Sky Entertainment owned by the dynamic duo Abdullah Kadwani and Asad Qureshi.
It has bagged more than 4 million views on its first episode and more than 1 million views on its recent episode on YouTube.
For all those who have seen Ahsan Khan reach a zenith in his acting career, it's the never-seen-before cast that is keeping things exciting. 
Some picturesque teasers have given a lot to look forward to with Ali Faizan behind the fine direction of the drama serial. 
Some very prominent faces from the industry have also added depth to the drama serial with their acting prowess including Ushna Shah, Hina Altaf, Saba Faisal, Saba Hameed, Samina Ahmed, Madiha Rizvi, Noor Hassan, Kamran Jilani, and Ali Rizvi in pivotal roles. 
The original soundtrack for the drama sung by the versatile Sahir Ali Bagga and Hadiqa Kiyani has also cemented its place with nearly 2 million views on YouTube.
Bandhay Ek Dour Se airs every Thursday at 8:00 p.m. 
You can also catch episodes on Har Pal Geo's YouTube channel. Don't forget to subscribe to our social media pages on Facebook, Instagram and Twitter, to get the latest updates on Bandhay Ek Dour Se and other shows.