A new drama serial Bandhay Ek Dour Se joined the realm of Geo Television last night— garnering interest from Ahsan Khan, Ushna Shah and Hina Altaf's fandom.
Bandhay Ek Dour Se is a presentation of the country's leading production house 7TH Sky Entertainment owned by the dynamic duo Abdullah Kadwani and Asad Qureshi.
The first episode features a conflict between a middle-class joint family that had parted ways a year ago after living under the same roof for decades.
Ahsan Khan features as the lead character, Umar, who is quite determined that bringing a truce between his family and his aunt would pave the way for his marriage. Which brings us to think of his love interest. 
Ushna Shah graces the screen as his cousin and best friend Maheen. Although his family suspects him of having feelings for Maheen as he is usually speaking in her family's favour, the doubt soon loses its weight when they are told about Maheen's engagement with someone else.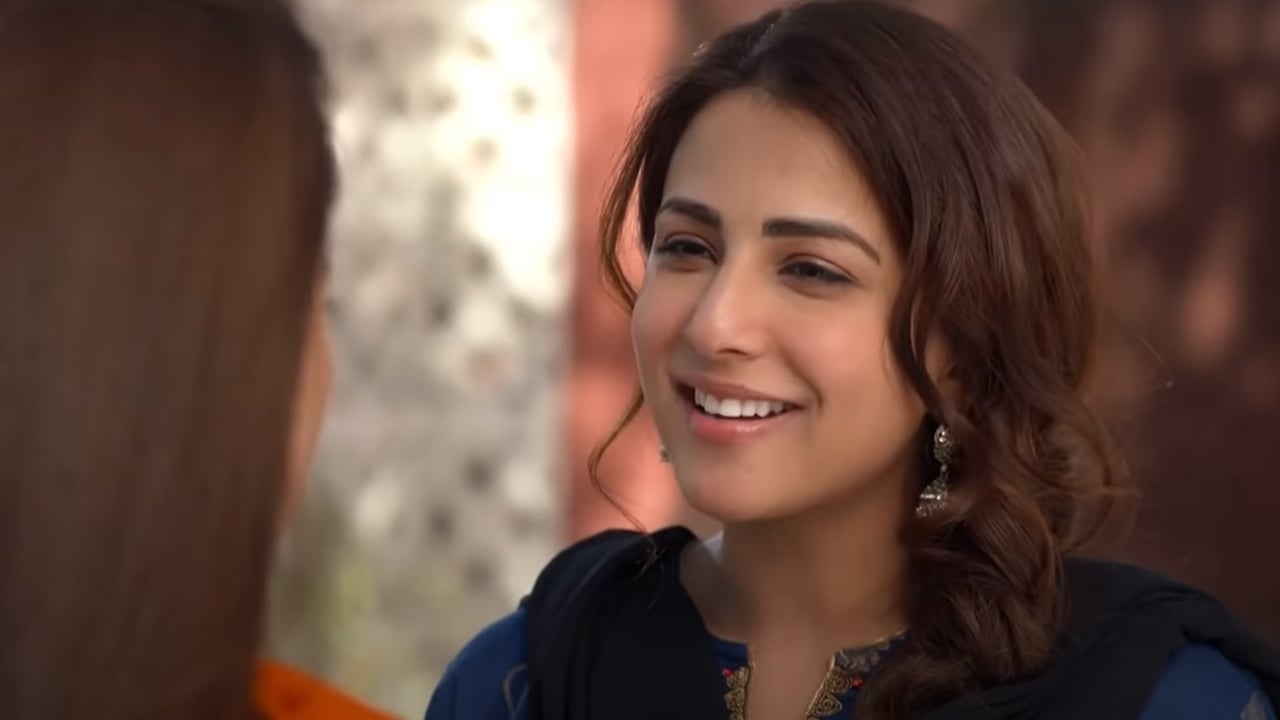 Making Maheen his ladylove could have made things easier for Umar, but his heart belongs to someone else. Here, we are speaking of Roshni who happens to be Maheen's neighbor. Only to see one glimpse of her, Umar finds opportunities to visit his aunt and her children despite the family clash.
This is where Hina Altaf and Ahsan Khan's onscreen chemistry comes into play. One of the scenes that was teased in the promos also appeared in this episode, showing Umar take a leap from one roof to another to meet Roshni. Given that it takes two hands to clap, their relationship comes with its own weak dynamics. 
For now, Umar invests all his energy to resolve his family's clash with his aunt Zakiya. In this, Maheen also proves herself as a true friend by helping Umar meet Roshni. 
However, the liveliness Ahsan Khan has brought on the screen is unmatchable. From helping his mother in the kitchen to giving his grandmother a shoulder massage, Umar really knows how to turn matters in his favour.
Saba Faisal has bagged a significant role as Umar's mother who seems to give a tough time to everyone in the family, especially her widowed sister-in-law Zakiya (played by Saba Hameed). However, Umar finds himself schooling everyone in his family on how to behave with Maheen's mother so she can be a rishta negotiator between Roshni's mother and his family. Ali Faizan has also done justice to Faiza Iftikhar's screenwriting with his directing prowess and displayed each detail in a timely fashion.
Bandhay Ek Dour Se airs every Thursday at 8:00 p.m.
You can also catch episodes on Har Pal Geo's YouTube channel. Don't forget to subscribe to our social media pages on Facebook, Instagram and Twitter, to get the latest updates on "Bandhay Ek Dour Se" and other shows.