The suspicions Naeem has been holding on to so strongly that he divorced Mehru, lost weightage in the recent episode. Although the drama serial seemed to be revolving around Danish Taimoor and Ayeza Khan's characters mainly, the recent episode has added more depth to its antagonist.
Ali Abbas has been reappearing as Mehru's former husband, Naeem, whose mother has left the house for divorcing a girl as fine as Mehru. Naeem's resentment towards his mother – because the girl she chose wasn't as "decent" as he thought – became even more questionable when his aunt, Shakeela Beghum, revealed her conspiracy to her son.
Surprisingly, the only person who opposed Naeem's marriage with Mehru is his aunt who still hopes to make Mehru her daughter-in-law— which proves that Naeem was too quick to react and lost a gem of a person. The recent episode also showed why Iffat Omar's on-screen appearance as Shakeela Beghum continues even after Naeem's failed marriage.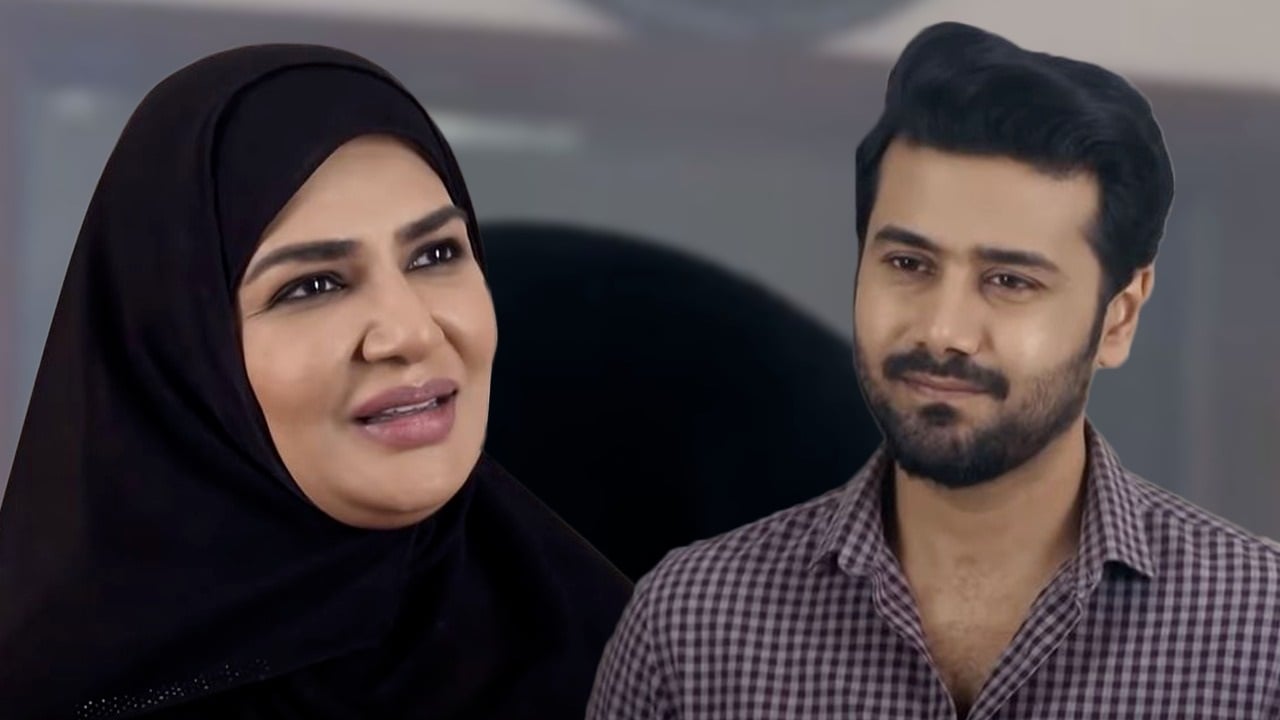 Shakeela Beghum, who had always envied Naeem's mother, recently weakened all the accusations against Mehru in one go when she revealed her intention to bring her home. Her plan to marry off an average girl to Naeem so she can make her son marry Mehru shows how eager she is to turn down Naeem's mother.
Knowing that her own son, Waqas, wouldn't do anything to change their financial situation, Shakeela Begum gives Naeem all the emotional support he needs, subsequently replacing his mother. Soon, Naeem starts relying on his aunt to an extent that he refuses to invite his own mother to his second wedding.
Syed Aarez who plays Naeem's cousin, Waqas, is among those characters who are being grinded in the turn of events. His mother's conspiracies are costing him his own happiness as his mother refuses to let him marry the girl of his choice. The writer Misbah Nosheen has really added insult to injury in Naeem's case instead. The girl he is promised to marry next is none other than Waqas's love interest— surprising enough as he had divorced Mehru assuming that she was involved with someone. Unaware of what his aunt has plotted next, Naeem is believing that his next bride will surely be someone with a spotless past!
Danish Taimoor continues with his uber-polite role of Shahjahan, who is guilt-ridden for supposedly ruining Mehru's life. He finds himself caring for Mehru even more after her father's demise, especially owing to the promise he made to her father.
Out of due respect, he comes uninvited to help Mehru wherever possible— whether she is going to get a gas cylinder filled or taking her younger sister out for shopping. However, keeping his promise intact in the past few episodes wasn't as difficult as what we're looking at lately. Shahjahan now even bears all the hatred Mehru has for him after his mother thrashed her with unfounded accusations. A recent teaser showed a glimpse of another intense dialogue delivery from Ayeza Khan as her character confronts Shahjahan for interfering in her life, yelling "Saari dunya kay saamnay mera tamasha banay kay tumhey kitni naflon ka sawab milta hai?"
For those who have sympathy for Shahjahan, worry not. Mehru's sister (essayed by Zainab Shabir) is head over heels in love with him. Ayat's disagreement with her sister sparks an argument every time they speak of Shahjahan. However, Mehru's mother surely makes parenting goals, especially when she puts Ayat in her place for speaking ill of Mehru. But what is yet to be seen is if Shahjahan would even reciprocate to Ayat's feelings. If so, will Mehru let Shahjahan become a part of her family?
Meher Posh is a presentation of the country's leading production house 7TH Sky Entertainment owned by the dynamic duo Abdullah Kadwani and Asad Qureshi. The drama serial is directed by Mazhar Moin.
Meher Posh airs every Friday at 8:00 p.m.
You can catch the OST, the teasers and fresh episodes for Meher Posh on Har Pal Geo's YouTube channel. Don't forget to subscribe to our social media pages on Facebook, Instagram and Twitter, to get the latest updates on Meher Posh and other shows.