The promise Shahjahan made promise to Mehru's deceased father of taking care of his family has him in major trouble.
Shahjahan's mother is adamant on distancing him from Mehru's family which is starting to create tension between the son-mother duo.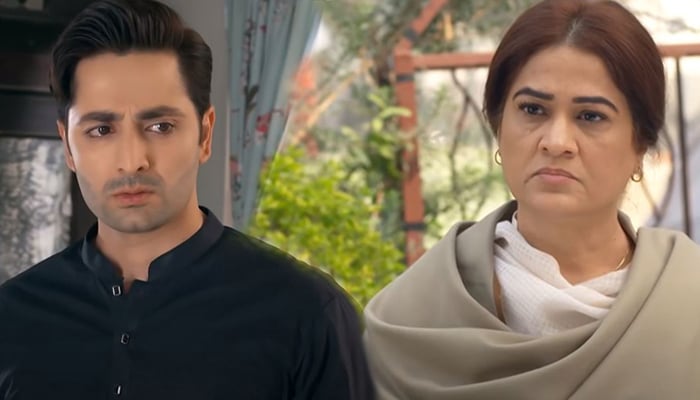 The drama serial mainly focuses on the social stigma attached to divorce— bringing the viewers to a realization that a woman's life should not stop after divorce.
Drama serial Meher Posh has already been highly anticipated for Ayeza Khan's appearance alongside Danish Taimoor. The recent episodes showed us Mehru's immediate separation from her husband, Naeem, on the wedding night, followed by her father's demise when Naeem humiliated her in front of her whole neighbourhood with unfounded accusations. 
If we wind back all the way to those episodes when Mehru's father was alive, her divorce wasn't really an end of the world. Her family mourned the separation in the beginning, but with an ideal father figure like Jahanzaib aka "Master Sahab" - who assured his daughter of his trust and held the family together - Mehru was back to being her beautiful self.
Meher Posh took away our favourite character a bit too soon. Even with limited screen time of nine episodes, Rehan Sheikh touched the audience with the role of Mehru's father and the words of hope he delivered with depth and poise.
Sania Saeed features as Mehru's mother who is left with two daughters and memories of her deceased husband. With his demise, the drama serial is now focused on Shahjahan's vow to care for Mehru's family and the confession he's holding back.
On the other hand, Mehru had barely overcome the trauma of her character assassination done by her ex husband. Quite recently, Shahjahan's mother also added insult to her injury— leaving her even more shattered. Despite wanting to close all the doors for Shahjahan after his mother's harsh words, Mehru won't be able to shut him out. Looking at the teaser, it seems Zainab Shabbir's role as Mehru's sister, Ayat, will soon come out strong in support of Shahjahan.
Will Shahjahan spend a lifetime blaming himself for Mehru's condition? Or will the interplay between love and trust bring Shahjahan and Mehru together?
Meher Posh airs every Friday at 8:00 p.m.
Meher Posh is a presentation of the country's leading production house 7th Sky Entertainment owned by the dynamic duo Abdullah Kadwani and Asad Qureshi. The drama serial is directed by Mazhar Moin and written by Misbah Nausheen.
You can catch the OST, the teasers and fresh episodes for Meher Posh on Har Pal Geo's YouTube channel. Don't forget to subscribe to our social media pages on Facebook, Instagram and Twitter, to get the latest updates on Meher Posh and other shows.